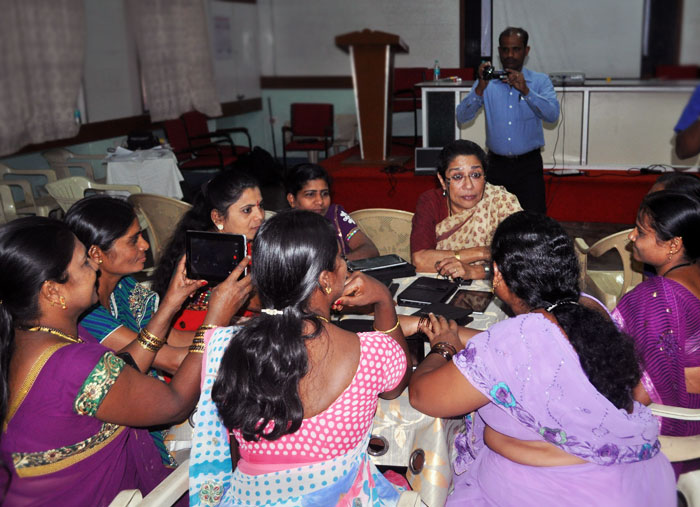 Mahiti's committed approach to social development interventions has led to a number of long-term partnerships; and numerous projects across several countries.
Engagement of an institution with Mahiti may begin with a 'Project' - a one-off activity over a fixed period to meet a particular need. As trust is built, new ideas emerge and the collaboration evolves into a long-term Partnership, during which Mahiti mentors the institution to use technology in diverse ways to benefit from the increasing opportunities of the digital age. Mahiti's Partnerships have been with CSOs, Social Innovators, Change-makers, Governments and International Development Agencies, to empower people and communities. In both Partnerships and Projects, insights are brought in drawing on Mahiti's vast and varied experiences to increase programme efficiencies and reach in a number of sectors.
End-to-end Solutions Partner - Mahiti's team of domain experts and technologists are able to take up complete turn-key solutions to address many of the programme management challenges faced by institutions in the social development sector. Mahiti ideates, creates and innovates technology solutions that help enhance and strengthen programme delivery and quality and achieve the desired results.
Solution Design & Prototyping - IT experts of Mahiti work alongside Partners in conceptualising, designing and prototyping various telephony/IT solutions to address their specific needs.
Strategy & Transformation - Mahiti engages Partners with a structured approach to designing, planning and applying innovative ideas that will enable them to develop appropriate strategies for achieving the desired social impact. Mahiti's experience, understanding and technical know-how support Partners in adoption and sustained use of technology that can catalyse organisational transformation.