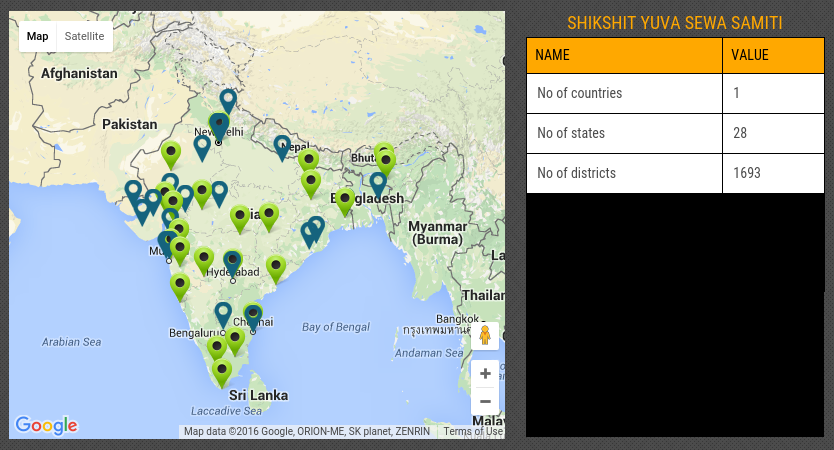 Screenshots of applications that were deployed using Convene Platform
Mahiti encourages and supports the social development sector to transition from in-house computing systems to cloud-based services.
Mahiti provides two customisable services:
Cloud-based Platforms for social development organisations and networks to improve programmes, communication and management;

Technology Services in the area of Mobile Applications, Knowledge Portals, Cloud-computing, Big Data, Analytics and Social Media;
Cloud-based Platforms
Based on the solutions deployed over the years, Mahiti has developed two key Technology Platforms which are customised to the needs of social development organisations, networks and programmes.
1. Convene - This is a data collection and analytics Platform which captures data through multiple interfaces such as handheld devices (mobile phones, tablets and customised devices), desktop browsers, IVRS (Interactive Voice Response System), SMS (Short-Messaging Service) and USSD (Unstructured Supplementary Service Data). Convene also integrates GIS (Geographical Information System), mobile phone networks, traditional telephony and FAX systems.
Convene provides a unified responsive MIS (Management Information System) application to access the collected data and view reports. Convene is extensively used by Mahiti's clients for information management, programme monitoring, impact assessment, data visualisation, extraction of insights and analytics and GIS,";
Solutions based on Convene are being used in projects related to Primary Health, Mental Health, HIV and AIDS and Education in India, Bangladesh, Laos and Tajikistan.
2. OurBank - It is a MIS Platform for microbanking and management of aspects like member portfolio, pre-procurement, procurement and post-procurement workflows of agriculture/farm produce, warehouse/factory and market linkages. This Platform includes native Android application for tablets/mobile phones and browser-based responsive web-applications. OurBank supports the principles of Sustainable Agriculture and Fair Trade. It is being used by organisations in India, Kenya and Tanzania for managing FPOs (Farm Producer Organisations) and MFIs (Microfinance Institutions).
The system allows:
Implementation of support services by Federations/ Cooperatives/ Producer Companies for their members. viz. farmers, borrowers;
Storing producer and group details and their feedback on programmes;
Performance assessment of savings and credit groups and individual members;
Linking the type of crop with agricultural practices, training and locations;
Streamlined production and marketing and scope for price-negotiations in buyers' markets;
Analysis of impact of sustainable agriculture on farmers' lives by calculation of costs of production and profitability(cost-benefit analysis);
Capturing socio-economic data required for critical analysis of financial inclusion programmes;
IVR/Mobile integration for direct interaction with members and data collection;
​Key features that support financial transactions include:
Financial modules to equip MFIs, thrift/savings and credit and/or producer co-operative societies, Self-Help Groups(SHGs) and their federations and non-banking finance companies (NBFCs) to handle loans, savings, shares, pension and insurance transactions efficiently and effectively;
Built-in double-entry accounting system;
Inventory and warehouse management;
Compliance and alignment of features with the Banking Correspondent Model, if the CSO(Civil Society Organisation) wishes to be a micro-credit provider or act as an intermediary between formal banks and CBOs (community-based organisations) or individual borrowers from the community;
Configuration of repayment methods across a range of options against each loan account;
Features that enable modification and/or waiver of loans at any point of time;
Customisation and generation of various types of reports including GIS, social indicators, financial status, etc.;
Technology Services
Mobile Applications
Mobile applications have become a critical component of Mahiti's services as they hold the highest potential for engaging users. Some of Mahiti's innovative mobile solutions have enabled partner organisations to reach out to groups otherwise ignored or excluded by mainstream communication methods. Mahiti's mobile apps help with dialogue and participation too, collecting feedback and delivering campaigns and educational programmes. IVRS developed by Mahiti aids organisations to collect data even from illiterate respondents and ensures quicker collection of data for analysis with lesser room for error.
Knowledge Portals & Digital Strategy
Design, layout and navigation of the portals that Mahiti architects and builds for partners and the calls-to-action are all created with a clear understanding of the target audiences. Portals are conceived around unique requirements of the CSOs to showcase their work and impact, to create understanding among the public about social causes relevant to the CSOs' work, to support fundraising strategies and to raise resources. To enable partners to manage the portal independently, Mahiti builds the portals on a user-friendly framework and mentors partner staff on effective use of the Content Management System (CMS). Social networking tools are integrated into the portals and web services, enabling a 360-degree experience for end-users. Portals developed are responsive in design, taking into account the growing number of visitors who increasingly use handheld devices.
Technology Consulting
Mahiti's inhouse pool of technologists with decades of cumulative experience in the social development sector helps organisations explore and adopt emerging technologies in Social Media, Mobile Applications, Data Collection and Analytics and Cloud Computing. Partners are enabled and facilitated to adopt the most appropriate and relevant technology to enhance their high-availability transaction systems, cloud-based applications, knowledge portals, campaign communications and e-commerce applications that are architected to scale.
Cloud, Big Data & Analytics
Cloud computing has increased the affordability and ease of adoption of technology within the social sector. Mahiti uses cloud computing as the primary building block for hosting all the applications and services. By design Mahiti is actively encouraging and supporting social sector players to move from in-house computing systems to cloud-based services. Mahiti's technology solutions use Big Data and Analytics to help organisations manage and analyse huge amounts of data for research, impact assessment and learning for replication and scaling up.