5 Ways a Well Designed Website can Boost your Fundraising Efforts
Dec. 9, 2014, 7:54 a.m.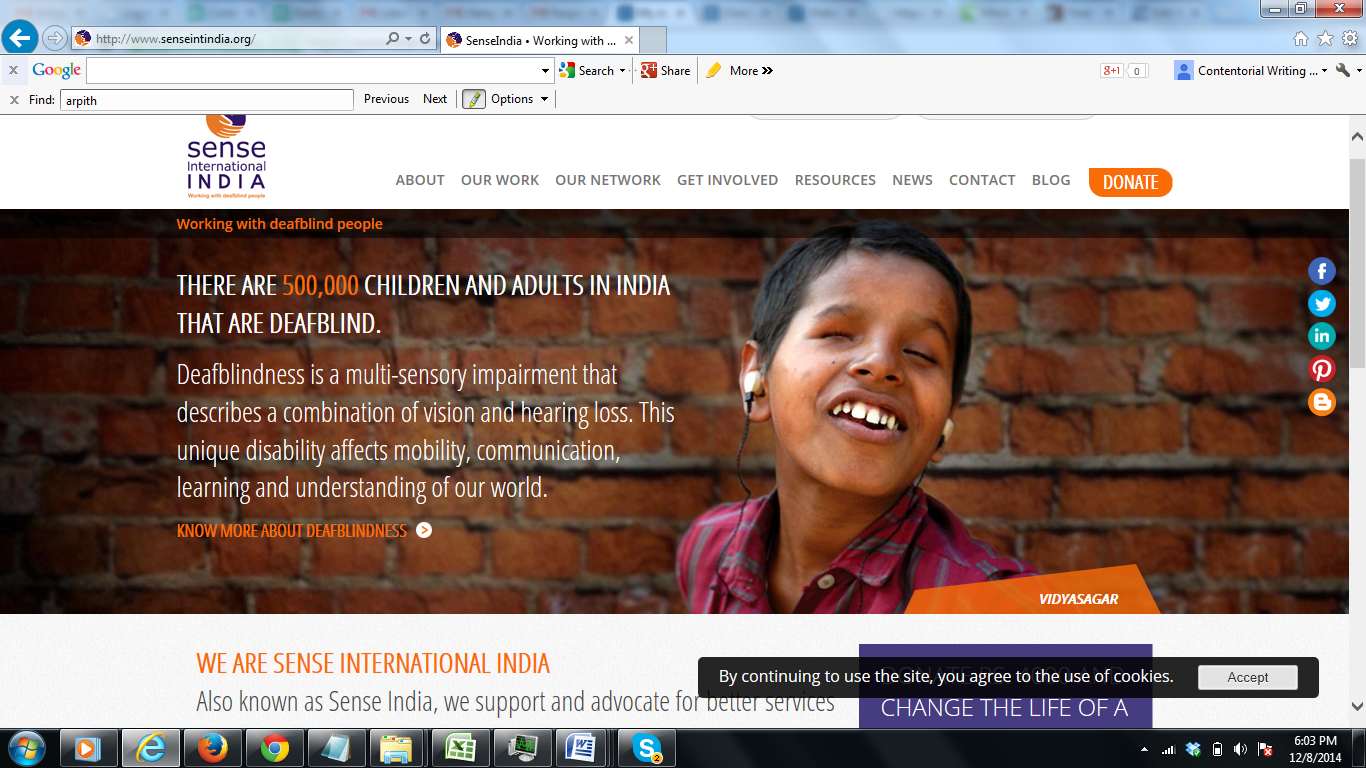 Summary :
Five basic but must-do tips for your NGO's website!

As per the 2014 Fundraising Technology Trends that surveyed 142 fundraisers on the use of technology to boost fundraising efforts, it emerged that web based communication is a crucial channel. 3 out of 4 non profit organisations use their own website for fundraising. Your website is the first glimpse that prospective donors have of what you do. You have to get the right message across to loosen those purse strings.

Here are 5 ways to make sure that your website is a potent ally in helping you get funds for your cause.

1. Present your Cause Visually to Make a Greater Impact

A picture is worth a 1000 words; use it in your website design. People support a cause more willingly, more impulsively when it touches a chord with them somewhere. Use pictures to make an emotional connect with your website visitors and convert them into potential donors.

For example, we designed the website for

Sense International India

, an NGO that works towards the cause of deaf-blind adults and children in India. Talking to Sense India, we realised that not many people might be aware of this particular impairment. Hence we used a compelling image and in the headline, we decided to simply tell visitors what deaf blindness is and how it affects the afflicted to make a greater impact on the visitors.

2. Showcase the Impact of Your Work

With non-profits springing up at the drop of a hat, people are naturally skeptical of what eventually happens with their donation. It is not that people don't want to give, but they want to make sure that organisations they are supporting have a specific action plan to do what they promise. Go the extra mile and show clearly in your home page where their contributions will go and the difference it will make.
The best way to do it is by showcasing your past successes, a recent program that you undertook, and the positive change it brought about.
Use 'action' photographs to showcase the impact of your work.
A video will work even better.
3. Build Trust Via Transparency
Be sure to be transparent in revealing to your website visitors how exactly their donations will be used. If it is possible present visually what happens when a donation is made. It is good idea to have an animated film that illustrates this point. Work with your team to brainstorm ideas on how best to convey this information in a manner that's interesting and innovative.
If you have recently won any awards or recognition, be sure to put them up on your website prominently. This increases your credibility and people will tend to trust you more. For instance, on the Sense India website, it is prominently displayed that the organisation recently won the India NGO Award.
Being a member of NGO networks like GuideStar India, Credibility Alliance, Give India or India Cares helps build credibility – showcase this on your website!
4. Make it Easy to Donate
Place your 'donate' button prominently on the website. The last thing you want is someone willing to make a contribution, but unable to do so because he/she can't locate the button. It is a good idea to perhaps test different button designs and placement options to see what works best for your website and target audience.
Do not test your donor's patience with complicated forms. Create simple forms that ask the minimum required information.
A tip - Do not ask for information that will be covered in the payment gateway. Keep it short, simple, and easy for your donor.
5. Create a Responsive Website
With more and more people accessing the internet via their phones and tablets, creating responsive website designs is crucial. This ensures optimal display of your website, irrespective of the device on which it is viewed. Thus you don't lose out on any fundraising opportunities that may present themselves, even when the donor is perhaps on the go, or waiting to catch an airplane!
At Mahiti, we strive to use technology in helping the voluntary sector mobilise support from the public. We help non-profits enhance their communication efforts by designing websites, databases, and other communication channels. Click here to know more about our work.