Impact of Technology in Social Sector - Workshop at Kristu Jayanti College
July 19, 2016, 11:53 a.m.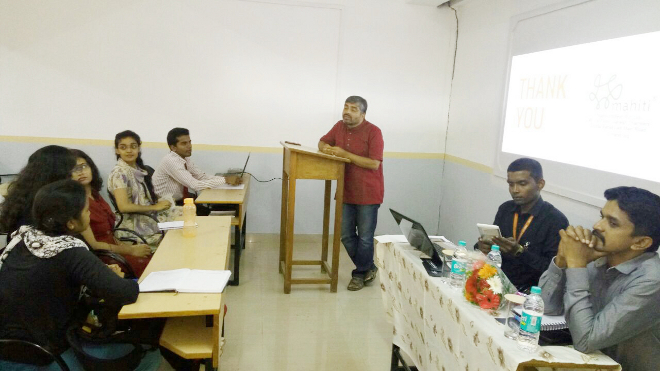 Mahiti Infotech Pvt Ltd (www.mahiti.org) presented a special lecture on Impact of Technology in Social Sector and demonstrated the Convene platform at Kristu Jayanti College, Bangalore for the Masters Social Work students on 08 July 2016.
The content of the presentation was to demonstrate the Impact of technology in the social sector. The presentation began by welcoming the guest. The students and the staff welcomed the guest with a welcome speech and introduction of the speaker Mr.Sreekanth S Rameshaiah (Executive Director, Mahiti Infotech Pvt. Ltd). Mr.Sreekanth(Sree as he is fondly called) spoke about the importance and impact of technology in the social sector. He also spoke about how Information and Communication Technology was impacting the various sectors of Education, Agriculture and Healthcare. When the students were asked as to what they were expecting as an outcome of the presentation, one of the students responded that they were at the presentation to validate if they had made the right choice by choosing the MSW course!
Some of the important projects which Sree spoke about included
GIS Mapping of Data
Mobile Data Gathering
Education Monitoring and Evaluation
Management Information Systems
The students were given hands on experience on the Convene platform by their senior Asish Jacob who is currently employed in Mahiti. Asish demonstrated how a survey can be created, data can be captured and how reports can be generated.
The students were eager to be able to use the application for their project work as it would increase their efficiency in data capture.
------ Asish Jacob MSW, Assistant Project Coordinator, Mahiti