The 'accidental run' and other adventures at the World 10K
May 21, 2015, 11:15 a.m.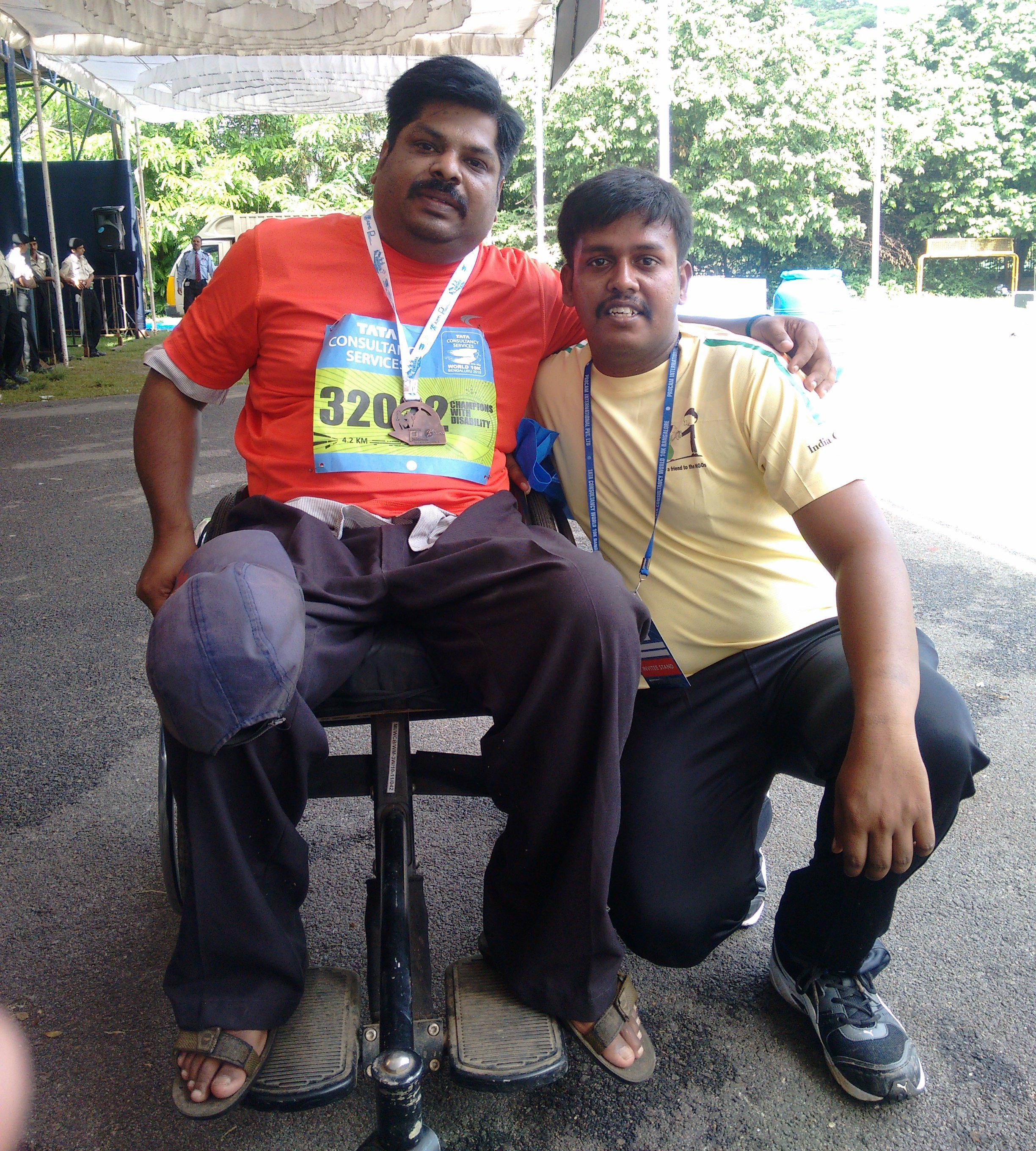 Summary :
The TCS World 10K was last weekend, 17 May 2015. Inspite of the rains, people came in thousands to participate in Bangalore's annual event. Our very own Project Manager, Arun Kumar, volunteered for India Cares and then went on to accompany the Champions of Disability run. Here's his account of his first run and the other Mr Arun Kumar, he had the privilege of meeting.

I cannot really express the experience I had – running and most importantly, completing my first Run with Champions with Disability was exciting and this was my first-ever attempt at running in an event!

I was volunteering to help out the previous day at Kanteerava Stadium. I must say, the stadium looked like a swimming pool due to the heavy rains. The Event day I got to Kanteerava Stadium at 6.15 in the morning and there were already so many people who had reached the venue, with music and entertainment on the side. We cheered on the people starting the 10K race. While waiting at Gate 'C', where the Champions with Disability were also waiting for their Run to start, a lady came up to us and asked if anyone would be able to participate to help out a Champion with Disability. I very enthusiastically agreed though I had no preparation whatsoever to do a Run!

That's when I met Mr Arun Kumar (Yes! We both have the same name!). Arun Kumar works at the Data Entry Unit in Diya Foundation. Diya Foundation is an NGO that works to help people with disability lead and independent and full life. He was participating in the World 10K for the fifth time to raise money for Diya Foundation's work and awareness on disability issues. He says that he gets to "meet other differently abled people who have made big achievements possible and get to meet volunteers who care about disability issues," during the World 10K. He also believes that such visibility will help promote a movement towards better mobility in public places. "I can move around independently if all public places such as malls, offices, hospitals, residential complexes, were built in way that will allow wheelchairs to navigate through them. We also need better roads to use wheelchairs safely with no risk of injury to ourselves."

Yes... why is there even a need to ask for something so basic, so logical? As for my Run, I got pretty exhausted mid-way but thanks to the music and cheering, I was able to push myself to finish the 4kms. And I learnt something at the end of it – where there is a will there is a way; if I think I'm ever doubting that, I have to only think of Mr Arun Kumar from Diya Foundation for inspiration.