The Open Innovation Lab at Tajikistan
March 16, 2015, 12:26 p.m.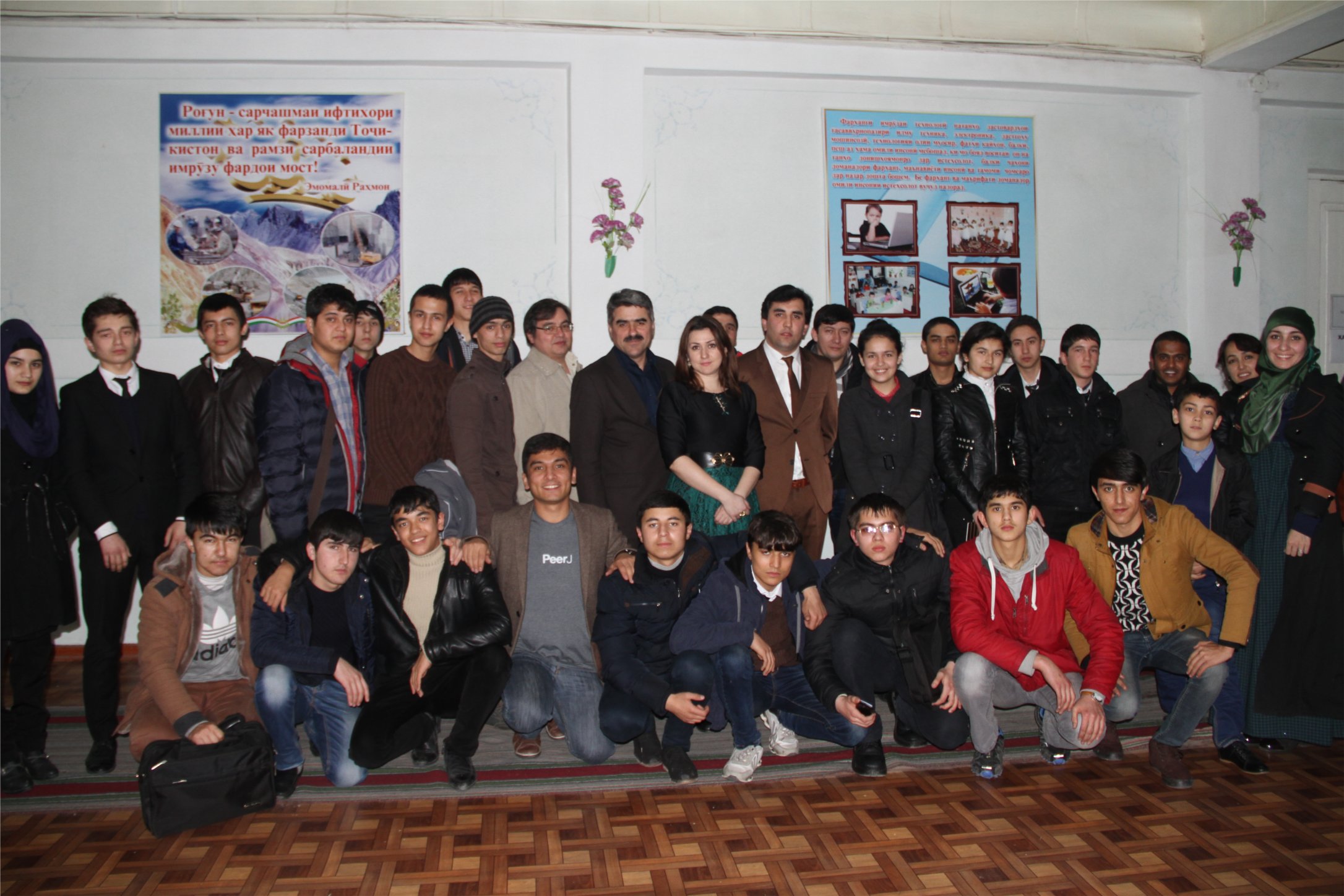 Summary :
Our training programme at the Open Innovation Lab at Tajikistan, building the capacity of youth to build local technology solutions and catalyse growth towards a knowledge-based society.

Tajikistan is situated in Central Asia, landlocked by its neighbours Afghanistan, Uzbekistan, Kyrgyzstan and China. Tajikistan became an independent, sovereign nation in 1991 after the break up of the Soviet Union and then went into civil war from 1992 to 1997.

Tajikistan is the poorest country in Central Asia today. In 2006, GDP per capita of Tajikistan was 85% of 1990s level, while the population has increased from 5.3 million in 1991 to 8 million in 2013. 47% of Tajikistan's GDP comes from immigrant remittances from Tajiks working in Russia*.

Markazi Subhi Donish, aka MaSuD, is a school that aims to build the capacity of Tajikistan youth to catalyse Tajikistan towards a knowledge-based ICT economy. MaSuD has partnered with Mahiti in its initiative for an Open Innovation Lab that trains youth in Dushanbe, Tajikistan to build software applications that support national goals. This led us to explore possible trainings in the area of web and mobile applications that we could offer MaSuD to enable the development of local technology solutions and to provide Tajik youth an alternative to moving out of the country.

The initial phase of the project found support of the Open Society Institute - Assistance Foundation in Tajikistan. It was implemented in partnership with other civil society organisations like Public Fund Internet, Public Fund CIPI, Internews Networks, and Public Organisation Centre ICT.

The Coursework

The training course that has been jointly developed by MaSuD and Mahiti began in January 2014 and covers topics such as:
Principles of design and UI
Web application development and frameworks
Mobile application development
Python and rapid application development
Our senior developers travel to Dushanbe and run each course over a two-week period with students that include:
MaSuD Teachers, Students and Partners
University teachers; civil society trainers
Final and Pre-final year students of universities
Software development companies
Behind the scenes
MaSuD arranges a bus to go around the city and pick up the students and attend the classes. The first course on Design and UI was held in the dead of winter when Universities are closed and people usually stay indoors – a perfect time to focus on honing their programming skills! Says Sunil Nallode, Head Design and UI of Mahiti, "The Class was keen on making full use of their interactions with us. After every class they would want to take back homework assignments to test out their learnings – it goes to show how keen they were to learn as much as possible given the short timeframe. So every day I would start the class by reviewing their work. It was heartening to see the effort they were putting in."
Vijay Rasquinha, CTO, Mahiti travelled to Dushanbe in June to cover the topics under web application and frameworks and found that "the youth were quick to learn, grasping new concepts very quickly and they were excited to learn new ways to approach developing frameworks." After the course as well, several students kept in touch and would keep getting back to Vijay clarifying doubts and getting feedback on their work. "I was also really happy to find out that one student had bagged a contract to build an application for a local hotel and that several others presented at a State competition for technology and one of them even bagged the prize!"
Sindhya Peter, Senior Developer, Mahiti went to Dushanbe in March 2015 to teach mobile application development. The Open Innovation Lab is looking to develop an application that would provide immigrants from Tajikistan resources on rights and institutions that could offer help in times of need in the country. Peter was to take classes to build their capacity on mobile application development as well as guide them through the development of the app they had in mind.
"We had helped them put together the specifications of such an application before I had even reached here. So I had to review their work so far on the application and fix bugs. For their coursework we covered basics and best practices on Android development. Some of the students are very keen to come up with their own ideas for mobile apps and develop them and put them up on App Stores."
Coming up next!
There's the python and rapid application development course that's coming up next. But what we are really looking forward to is finding more ways to help the Open Innovation Lab grow and see what exciting things the Tajik youth will build!
* Data from Wikipedia