Supporting human rights activists for greater visibility and outreach in society through technology
Aug. 30, 2013, 10:11 a.m.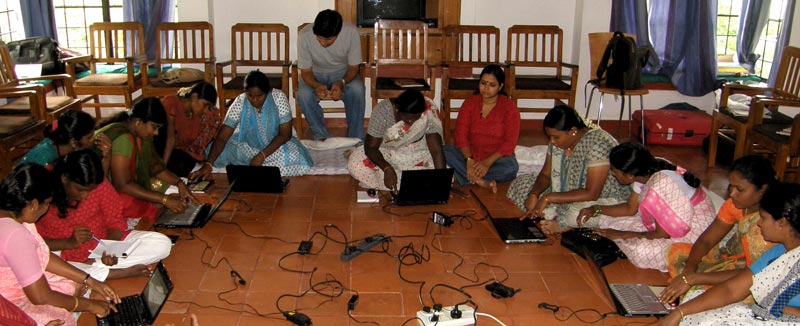 Summary :
Training workshops for women activists on open source technology, internet media and communications

Image courtesy: NESA training, Bangalore

We provide training to grass-root level human right activists and marginalised groups on free and open source technology and tools and internet media in order to help support their goals of greater visibility and reach in society. We have trained activists, including 300 women activists, from 2010 – 2012, across Chattisgarh, Assam, West Bengal, Mizoram, Tamil Nadu, Karnataka and Kerala by partnering with organisations and networks. Our modules are tailor-made for the group based on their prior knowledge and their requirements.

Our training with Dalit activists

Rights and Education Development Centre (READ) is an organisation based in Sathyamangalam,

Tamil Nadu that works to improve the lives of the Arunthathiyar community, ensuring children are free from bonded labour and receive education and women are empowered. Arunthathiyars are considered to be Dalit of Dalits and have faced discrimination for several decades. READ comprises of people from the community working for their own development and rights.

We provided READ and community members with training to use FOSS tools, the internet and social media to help them to reach out to wider audiences and bring visibility to their cause.Today, READ has set up a computer training centre in Sathyamangalam that teaches Arunthathiyar youth to use FOSS tools and the internet.

Our training with women activists New Entity for Social Action (NESA)

NESA is an organisation that identifies and supports grass-root activists for dalit rights and builds leadership and skill to initiate social change in the community.

NESA had a programme with 25 women activists from Karnataka, Kerala and Tamil Nadu who had varying levels of knowledge of computers.

Through a series of workshops, we built the capacity of these women to use computers, basic FOSS tools and the internet and email to help them connect with each other and other activists as well as document progress. These women now use computers and internet on a regular basis and have discovered several more uses for their training.