When a little 'tech' goes a long way... Part 3
March 5, 2015, 4:24 p.m.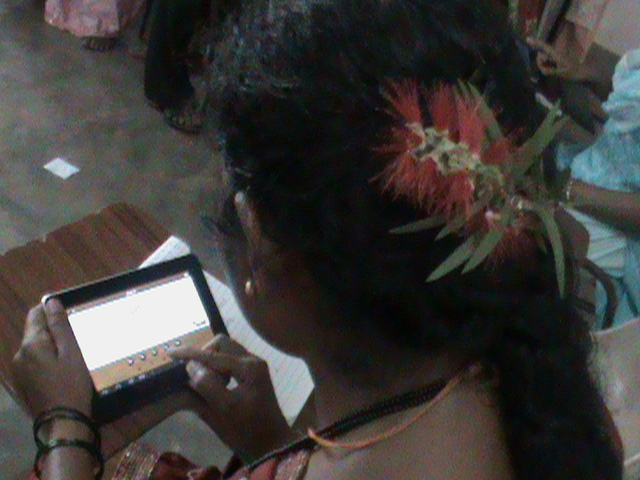 Summary :
After a year of training 55 rural women leaders in North Karnataka we go back to hear stories about how they have been using technology in their lives.

While these may have been things that we at Mahiti and Samraksha kept in mind as possible (and hopeful!) outcomes to this endeavour, we were sure that the women themselves would work on their own ways of using their new-found skills.

Press 'Record'

Prema likes to take photos and videos with her Tablet. She was invited by a neighbour to take photos and videos of their baby shower. Soon she being called to cover various family occasions by people in and around Kumta. "My Tablet is now like my professional equipment. I ask them to get a pen drive for me to download all the footage I take and I am able to charge Rs 300 and above for each occasion. I enjoy doing this and the extra money is really helpful."

Suvarna has always composed songs in Kannada. Now she records her songs and shares with her family and the group.

Back at home...

Rema's daughter is in Class 9 and she now uses the Tablet to access the internet for her assignments. Often she calls over her friends from school and with Rema's help they browse the internet to find information that can help with their classwork. "The kids used to have to go to the internet parlour to access the internet and they used to find it difficult to find what they wanted. Now that I have a Tablet my daughter and her classmates come home and find it much easier to do their internet work."

Prema had attended an English medium school when she was young till her Class 8. Now she makes it a point to teach her children English. When they come home for the holidays, she uses the dictionary application to help them learn and gets them to record while they read aloud so that they can hear how they sound and she can help correct them in English-speaking. "My daughter usually brings her friends over and they like to choreograph a dance to a film song. I record their dances and they love it!"

Tech for more women!

While most of the women have been going full-speed-ahead with their devices, we would like to point out that not everyone has – which we expected. But for all those who have, we are so happy that we did this in spite of all the obstacles they had to surpass. We really hope that organisations take a leaf out of Samraksha's work and encourage the women they work with, to take up technology to support their goals – in the way that they themselves would like to frame them.

Thank you for reading this 3-part series and hope you enjoyed learning about this group of women that may live in a very different place from what we know but are very much like you and me.

Happy Women's Day!