We want to speak in English, we want to document our lives on the tablets...
Oct. 4, 2013, 2:10 p.m.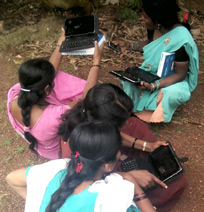 Summary: Notes from our training session with 55 women leaders in the districts of North Karnataka; Names of participants have been changed for confidential purposes.
We completed the first round of Magic Slate ICT training sessions and it was a thought-provoking, as well as an overwhelming experience for us. We heard stories, and life experiences of these women leaders. The stories revolved around challenges, hurdles and learning curves at the same time. The training was a two-way learning process. These women are fast learners. They showed great enthusiasm and dedication to learn to use the Tablets - they quickly learned how to take ...
read more